Practice and Theory of Contemporary Landscape Photography
essay on drilling in alaska dissertations-educational-leadership-management odessay arena examples-good-law-school-essays final solution coursework research instrument in thesis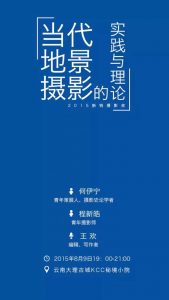 当代地景摄影的实践与理论
时间:2015年8月10日 Date: Aug 10th, 2015
地点:云南大理古城 KCC秘境小院 KCC, Dali, Yunan
主办:色影无忌 Organizer: XITEK
嘉宾:何伊宁 程新皓
Guests: Yining He, Xinhao Cheng
主持:王欢
Host: Wang Huan
照相机作为一个可以获取外部世界的象的这样一个工具,一直以来,使用摄影来凝视风景便是摄影实践中一直在探索的重要部分,近几年,国内也有很多摄影实践者拍摄了景观式的作品,来反观当下中国,那"景观式的摄影"也变成了近些年热议的字眼。
所以,我们今天所谈论的地景或者说风景摄影,并不是说我们看到了一处美丽的风景,用照相机简单地把它记录下来,也不是简单地出于猎奇而去追求某种审美趣味,风景所能承载的不仅仅是这样一层表象的东西,如果谈到承载,与其说风景作为一个场所,不如说是作为一个媒介,现今人们对风景的审视和观察总会渗透着社会概念,风景所展现的记忆、权力与历史彼此交织。
风景就是这样一个既具有普遍意义,又同时对于某个个体也同样具有私人意义的媒介,比如这是某个人曾经生活过的地方于他而言就有了其私人化记忆,以及这个地方的外貌、历史和文化属性等等,我们在使用摄影来面对特定场所进行回应,所拍下的就已经不仅仅是风景的表象,那它甚至是表达某类场所的某种情感特性,比如我们面对荒野会联想到自然的荒芜、森林偶尔会想到阴森和恐怖、城市广场会想到人类文明的种种,那如此来看,风景是一个极具复杂性的媒介。
本场讲座便邀请了两位不同角色对风景摄影这样一个类型,分别从各自的经验和历史上进行风景摄影实践的个案(以及对演讲者自身具有影响的摄影家的作品)来进行发言,二位嘉宾分别发言完毕后,活动进入讨论环节,我们将提出关于地景摄影的几点问题,由两位嘉宾来解答。
Camera is a tool to visualize the outside world. Using photography to capture landscape has always been a major part of exploration in photographic practice. In recent years, many domestic photographers create landscape works to reflect today's China, which made "landscape photography" a hot word recently.
Therefore, today, the landscape photography we are talking about is neither merely taking pictures for beautiful sceneries, nor seeking for an aesthetic adventure. Landscape can do more than housing exterior elements. It is rather a medium. Nowadays, our observations of landscape are always accompanied by social concepts. Memories, power and history presented by landscape are entwined with each other.
Landscape is a medium with both common and personal significance. For instance, a place where someone used to live will call out his or her own memories. Meanwhile, it has its objective nature, including the appearance, history and culture. When we use photography to respond to a certain place, we are not only capturing the appearance, but the emotion connected with such a place. For instance, we think of desolation when facing the wild; horror sometimes when facing the forest; and human civilization the city square. In this way, landscape is a complicated medium.
This lecture invited two lecturers to talk about landscape photography based on their own experience, works that influenced them and cases in the past. After their speaking, we will come into a discussion. The lecturers will answer the questions.